Frequently Asked Questions
What is a Psychologist? What is a Psychotherapist? Psychotherapy meaning
A psychologist is a person who studies normal and abnormal mental states, perceptual, cognitive, emotional, and social processes and behaviour by experimenting with, and observing, interpreting, and recording how individuals relate to one another and to their environments.
An individual, such as a psychiatrist, psychologist, psychiatric nurse,
or psychiatric social worker, who practices psychotherapy. Psychotherapy (psychological therapy or talking therapy) is the use of psychological methods, particularly when based on regular personal interaction with adults, to help a person change behaviour and overcome problems in desired ways. Psychotherapy aims to improve an individual's well-being and mental health, to resolve or mitigate troublesome behaviours, beliefs, compulsions, thoughts, or emotions, and to improve relationships and social skills. There is also a range of psychotherapies designed for children and adolescents, which typically involve play, such as sandplay. Certain psychotherapies are considered evidence-based for treating some diagnosed mental disorders. Others have been criticized as pseudoscience.
How many sessions is needed?
If you see a therapist, how many sessions are you likely to need?
Is this one question or many?  If you see a therapist, how many treatment sessions are you likely to need?  Sometimes that's a little like asking "If I go on a journey, how long should I travel for?"  Happily though, we do now have enough research evidence to be able to respond fairly helpfully to this "how many treatment sessions?" question.  To give useful answers though, it's probably sensible to break the very general "how many sessions?" query into a number of more targeted sub-questions.
These sub-questions could include "On average, how quickly am I likely to feel appreciable benefit?", "How many sessions will it take to achieve full recovery?", "Are there some kinds of problem that are likely to need more treatment sessions than others?", "Is there any point in getting 'top-up' sessions after the main therapy has finished?", "How would I know if the therapy isn't working?" and "If the therapy isn't working, what's the best thing to do next?"  Let's look at these sub-questions in a bit more detail.
How long do appointments go for?
A psychotherapy session typically lasts 45 to 50 minutes. Try to schedule your session at a time when you won't have to rush to your next appointment afterward. Worrying about being late to your next commitment will distract you from your psychotherapy session.
How should I prepare for the appointment?
You may feel nervous about contacting a psychologist. That anxiety is perfectly normal. But having the courage to overcome that anxiety and make a call is the first step in the process of empowering yourself to feel better. Just making a plan to call and sticking to it can bring a sense of relief and put you on a more positive path.
Psychologists understand how difficult it can be to make initial contact. The first call is something new for you, but it's something they handle regularly. Leave a message with your name, your contact number, and why you are calling. It's enough to just say that you are interested in knowing more about psychotherapy. Once your call is returned, they'll lead a brief conversation to get a better sense of what you need, whether they are able to help, and when you can make an appointment.
You might be tempted to take the first available appointment slot. Take a few minutes to stop and think before you do. If it does not fit with your schedule, you can ask if there are other times available that might fit better for you.
A typical psychotherapy session lasts 45 to 50 minutes. To make the most of your time, make a list of the points you want to cover in your first session and what you want to work on in psychotherapy. Be prepared to share information about what's bringing you to the psychologist. Even a vague idea of what you want to accomplish can help you and your psychologist proceed efficiently and effectively.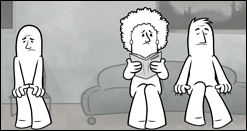 If you've been referred by another professional, such as a physician or attorney, notes about why they did so can be helpful. If a teacher suggested that your child undergo psychotherapy, you might bring in report cards or notes from his or her teacher. Your psychologist can also call these professionals for additional information if you give written permission. Records from previous psychotherapy or psychological testing can also help your new psychologist get a better sense of you.
If you're on any medications, jot down which medications and what dosage so your psychologist can have that information.
It can be difficult to remember everything that happens during a psychotherapy session. A notebook can help you capture your psychologist's questions or suggestions and your own questions and ideas. Jotting a few things down during your session can help you stay engaged in the process.
Most people have more than a single session of psychotherapy. Bring your calendar so you can schedule your next appointment before you leave your psychologist's office.
You'll also need to bring some form of payment. If you'll be using your health insurance to cover your psychotherapy, bring along your insurance card so your psychologist will be able to bill your insurer. (Some insurers require psychologists to check photo IDs, so bring that along, too.) If you'll be paying for psychotherapy out of pocket, bring along a credit card, checkbook, or cash.